Specialist Cleaning Should Be Done By The Specialist Cleaners
24 December 2013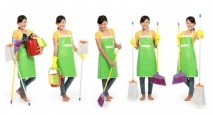 If you have a nice house, then you likely have paid a lot of attention to the things inside it. The range of materials that interiors can be made from nowadays means that there are now many more surfaces that are commonly found in households. The rise of nice materials in homes across the land means that there are now many more things that can go wrong when cleaning. You will find that certain materials will react extremely badly towards certain chemicals, and as many people are not completely aware of what these dangerous combinations are, nor what exactly is within the household cleaning products that they use, it is best to avoid the risk in the first place. The best way to ensure that you get a great clean without any issues whatsoever is to get in a professional cleaning specialist, who can either advise you on how to care for the materials in your home, or do it all themselves. Whilst you will have to pay for cleaning services like this, you will likely save money in the long run by avoiding there being any issue with replacing fabrics or surfaces, as nothing will get marked or damaged. If you feel like you have a decent idea of the things in your house and how they need to be cleaned, then have a look below for some tips and tricks for how you need to approach them.
Carpets need to be cleaned professionally to get the best results; dry cleaning and hot water extraction carpet cleaning are the best ways in which to ensure that the dirt is fully removed from the fibers, so be sure to call a carpet cleaner in for the job. You can home shampoo, but the fact of the matter is that hand scrubbing the foam in will only affect the top third of the pile, whereas a professional with a machine scrubber will be able to get pretty much the whole pile with minimal effort. You need to be sure that you don't try to apply home shampoo or scrubbing machines to antique rugs, as the fibers within them will be different to the fibers used in regular home carpets. Certain chemicals and abrasion from scrubbing will damage such antiques irreparably.
Wood floors will get scratched very easily, so you need to clean them in a gentle manner without any chemicals that will eat away at the grain. You can buy wood floor cleaner which is then mopped on, but the best results will again, come from a professional who is adept at getting the worst of marks off the floor without risking taking the varnish off or lifting the wood's color stain. If you want to get rid of obvious light marks form scratched dark stained wood, try dabbing the scratch with a little varnish, or even instant coffee, as the brown color will usually return the bared wood to the same color as the rest of the floor.
Stone surfaces and floors need to be treated extremely carefully. The compositions of marble and granite are different, and therefore specific cleaners have been made for them. If you have stone work tops in the kitchen, then you can't be calling round a specialist every time you need them cleaned, as that would be almost every day! Look online to find out what every day cleaning products will be ok on the stone materials in your home to ensure that you don't mark anything expensive too badly!
You may also like: